Detailed Product Description
| | | | |
| --- | --- | --- | --- |
| Type: | smd led | Chip Material: | InGaN |
| Emitting Color: | Infrared | Luminous Intensity: | Customers' Requirements |
| Luminous Flux(lm): | 1-2LM | Power: | 1W |
| Viewing Angle(°): | 120 Degree | Color Rendering Index: | Null |
| Color Temperature: | 730nm | Operating Temperature: | -20 - 85 |
| Chip Brand: | Epistar Chip, Sanan Chip,Epileds Chip | Current: | 350mA |
| Voltage: | 1.5-1.8V | Warranty: | 2 Years |
| Lifespan: | 50000-100000H | | |
Copper bracket pure gold wire smd ir led 3535 size 1W IR 730nm 850nm for Infrared sensor
Features:
Package in 8mm tape on 7" diameter reels.

Built in 2 LED chip.

Wide viewing angle.

Soldering methods: Reflow Soldering.

High performance.

The product itself will remain within RoHS compliant Version.
Descriptions:
The TOP3535 Taping is much smaller than lead frame type components, thus enable smaller board size, higher packing density, reduced storage space and finally smaller equipment to be obtained.

Besides, lightweight makes them ideal for miniature applications. etc.
Applications:
PCB mounted infrared sensor.

Infrared emitting for miniature light barrier.

Floppy disk drive.

Optoelectronic switch.
Package Dimension: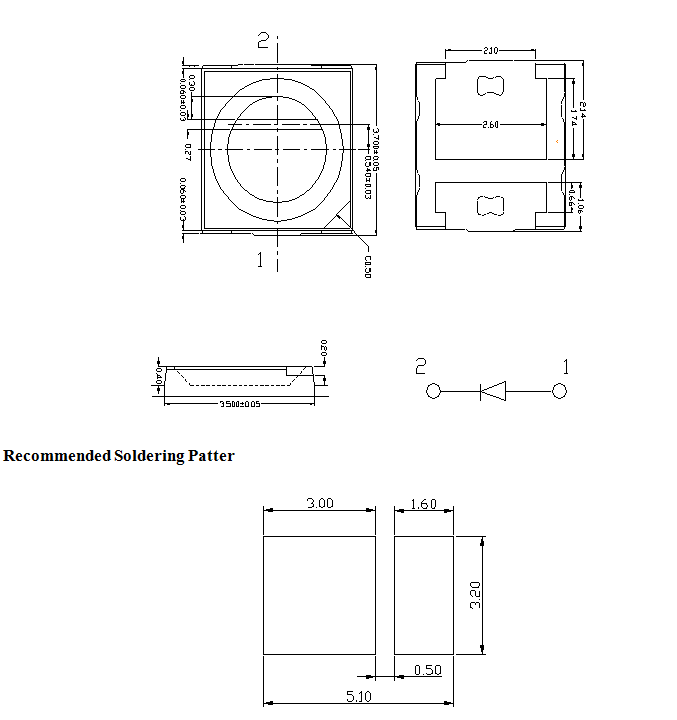 SURFACE MOUNT LED LAMPS
Product Type:YHIR3535-1W
Absolute maximum ratings (Ta=25°C)
Parameter

Symbol

Value
Unit
Forward current

If

300
mA
Reverse voltage
Vr
5
V
Power dissipation
Pd
480
mW
Operating temperature range
Top
-25~+80
°C
Storage temperature range
Tstg
-30~+85
°C
Peak pulsing current(1/8 duty f=1KHz)
Ifp
495
mA
Junction Temperature
Tj
115
℃/W
Electrostatic Discharge(HBM)
ESD
1000
V
Electro-Optical characteristics (TA=25°C)

Parameter

Test

Condition

Symbol

Color

Value
Unit
Min
Typ
Max

Color Temperature

IF=300mA
CCT
IR
--
--
--
K

Forward voltage

IF=300mA
Vf
IR
1.5
--
1.8
V

Total Radiated Power

IF=300mA
φ
IR
1
--
2
LM

Viewing angle at 50% IV

IF=300mA
2θ1/2
IR
--
120
--
Deg

Dominant wavelength

IF=300mA
λd
--
--
730
--
nm

Reverse current

Vr=5V
Ir
IR
--
5
--
μA

Color Rendering Index

IF=300mA
CRI
--
--
--
--
Ra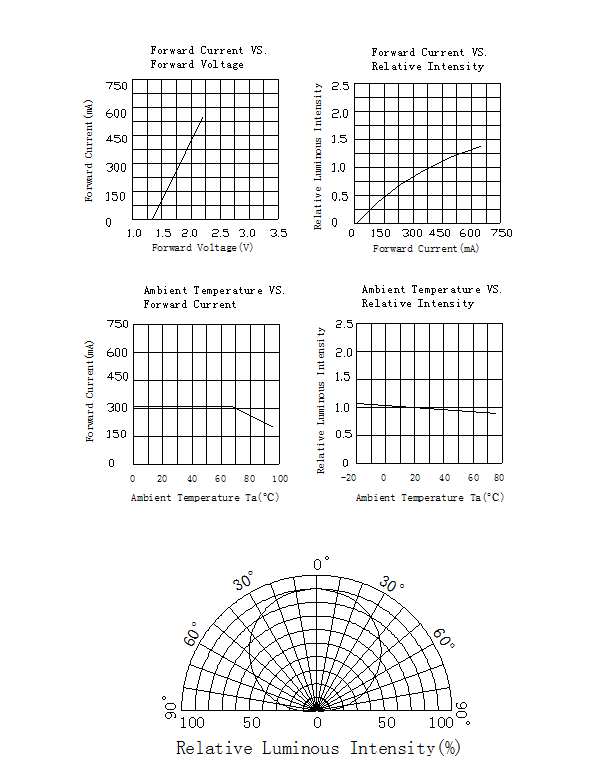 Please read the following notes before using the datasheets:
1. Over-current-proof
Customer must apply resistors for protection, otherwise slight voltage shift will cause big current change (Burn out will happen).
2. Storage
2.1 Do not open moisture proof bag before the products are ready to use.
2.2 Before opening the package, the LEDs should be kept at 30℃ or less and 90%RH or less.
2.3 The LEDs should be used within a year.
2.4 After opening the package, the LEDs should be kept at 30℃ or less and 70%RH or less.
2.5 The LEDs should be used within 168 hours (7 days) after opening the package.
2.6 If the moisture adsorbent material (silica gel) has fabled away or the LEDs have exceeded the storage time, baking treatment should be performed using the following conditions. Baking treatment: 60±5℃ for 24 hours.
3. Soldering Condition
3.1 Pb-free solder temperature profile.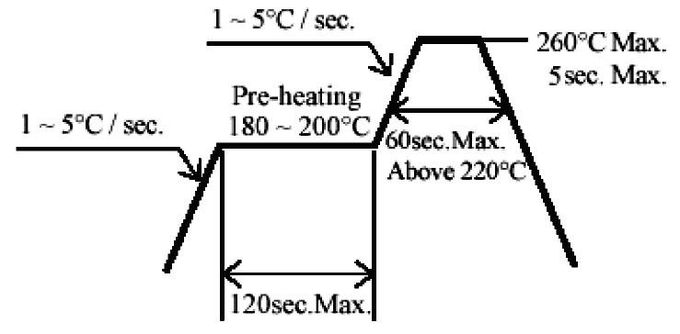 3.2 Reflow soldering should not be done more than two times.
3.3 When soldering, do not put stress on the LEDs during heating.
3.4 After soldering, do not warp the circuit board.
4. Soldering Iron
Each terminal is to go to the tip of soldering iron temperature less than 260℃ for 5 seconds within once in less than the soldering iron capacity 25W. Leave two seconds and more intervals, and do soldering of each terminal. Be careful because the damage of the product is often started at the time of the hand solder.
5. Repairing
Repair should not be done after the LEDs have been soldered. When repairing is unavoidable, a double-head soldering iron should be used (as below figure). It should be confirmed beforehand whether the characteristics of the LEDs will or will not be damaged by repairing.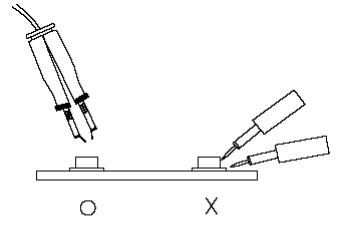 6. Caution in ESD
Static Electricity and surge damages the LED. It is recommended to use a wrist band or anti-electrostatic glove when handling the LED. All devices, equipment and machinery must be properly grounded.