Detailed Product Description
| | | | |
| --- | --- | --- | --- |
| Type: | smd led | Chip Material: | InGaN |
| Emitting Color: | Mix Yellow/ Amber | Luminous Intensity: | Customers' Requirements |
| Luminous Flux(lm): | 16-18LM | Power: | 0.2W |
| Viewing Angle(°): | 120 Degree | Color Rendering Index: | 50 |
| Color Temperature: | 1600-1800K | Operating Temperature: | -20 - 85 |
| Chip Brand: | Epistar Chip, Sanan Chip,Epileds Chip | Current: | 60mA |
| Voltage: | 3.0-3.4V | Warranty: | 2 Years |
| Lifespan: | 50000-100000H | | |
2835 Mix Phosphor amber orange smd chip 1800-2000k 1600-1800k Yuhang 0.2W 2835 LED SMD
Setting Information

Item

2835 smd led

Voltage

3.0-3.4V

Current

60mA

light color

amber color

Chip Brand

sanan

Power

0.2W

Certification

CE RoHS

Warranty

2 years
AProduct Description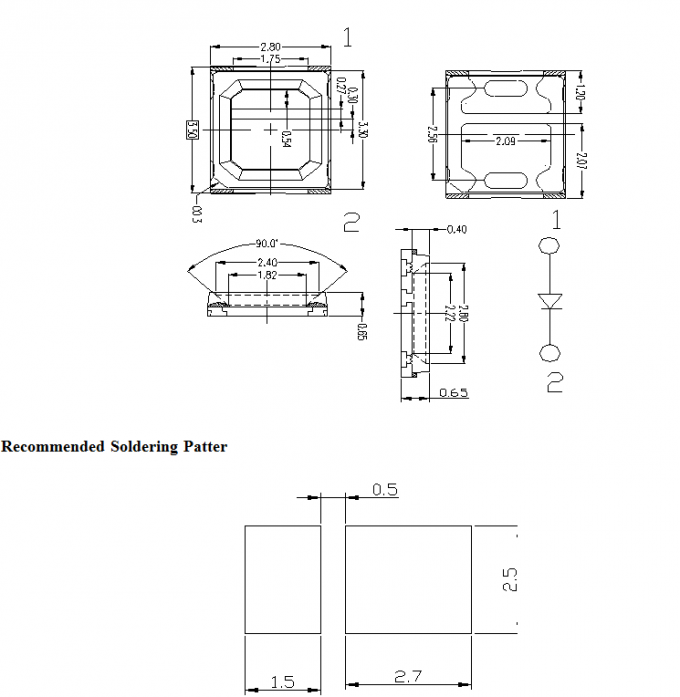 Product Details
Amber color 2835 hot products 16-18lm 0.2W smd led chip
1.High Lumens Output & Low Brightness Decay
2.Stable Performance & Great CCT Inity.
3.Wid Color Temperature Range
4.High CRI More Than 95 available
5.good raw materials
6.Taiwan Epistar, San'an chips
Product Material
2835 Mix Phosphor amber orange smd chip 1800-2000k 1600-1800k Yuhang 0.2W 2835 LED SMD
2835 led chip 0.5w sansn single color blue smd led
1. 99.9% gold wire
2. Taiwan red copper holder good cooling
3. high brightness Sanan Epistar led chip
Original factory formal chip more stable
4. High refractive index silicone
Initial Electrical/Optical Characteristics (TA=25±5ºC)
| | | | | | | |
| --- | --- | --- | --- | --- | --- | --- |
| Symbol | Item | Units | Min. | Typ. | Max. | |
| VF | Forward Voltage | V | 3.0 | -- | 3.4 | IF=60mA |
| IR | Reverse Current | uA | -- | -- | 1 | VR=5V |
| 2θ | Viewing Angle | º | -- | 120º | -- | IF=60mA |
| ø | Luminous flux | lm | 16 | -- | 18 | IF=60mA |
| TC | Colour Temperature | k | 1600 | -- | 1800 | IF=60mA |
| RA | Color Rendering Index | Ra | -- | -- | -- | IF=60mA |
Absolute Maximum Ratings (TA=25ºC) 3v led diode, 6v led chip, 9v led light,smd 18v led,24v smd led,48v smd led light
IFP Conditions : 1/10 Duty Cycle, 0.1 msec Pulse Width.
Item

Symbol

Absolute Maximum Rating

Unit

Forward Current

IF

60

mA

Pulse Forward Current

IFP

100

mA

Reverse Voltage

VR

5

V

Power Dissipation

PD

300

mW

Operating Temperature

Topr

-40ºC To +85ºC

°C

Storage Temperature

Tstg

-40ºC To +85ºC

°C

Soldering Temperature

Tsld

Reflow Soldering: 260ºC
Hand Soldering : 350ºC

for 10sec.
for 3sec.
Reel Dimensions
Carrier Tape Dimensions: Loaded quantity 4000 PCS Per reel.
Please read the following notes before using the product:
1. Over-current-proof
Customer must apply resistors for protection, otherwise slight voltage shift will cause big current change (Burn out will happen).
2. Storage
2.1 Do not open moisture proof bag before the products are ready to use.
2.2 Before opening the package, the LEDs should be kept at 30℃ or less and 90%RH or less.
2.3 The LEDs should be used within a year.
2.4 After opening the package, the LEDs should be kept at 30℃ or less and 70%RH or less.
2.5 The LEDs should be used within 168 hours (7 days) after opening the package.
2.6 If the moisture adsorbent material (silica gel) has fabled away or the LEDs have exceeded the storage time, baking treatment should be performed using the following conditions. Baking treatment: 60±5℃ for 24 hours.
3. Soldering Condition
3.1 Pb-free solder temperature profile.
3.2 Reflow soldering should not be done more than two times.
3.3 When soldering, do not put stress on the LEDs during heating.
3.4 After soldering, do not warp the circuit board.
4. Soldering Iron
Each terminal is to go to the tip of soldering iron temperature less than 260℃ for 5 seconds within once in less than the soldering iron capacity 25W. Leave two seconds and more intervals, and do soldering of each terminal. Be careful because the damage of the product is often started at the time of the hand solder.
5. Repairing
Repair should not be done after the LEDs have been soldered. When repairing is unavoidable, a double-head soldering iron should be used (as below figure). It should be confirmed beforehand whether the characteristics of the LEDs will or will not be damaged by repairing.
6. Caution in ESD
Static Electricity and surge damages the LED. It is recommended to use a wrist band or anti-electrostatic glove when handling the LED. All devices, equipment and machinery must be properly grounded.