Detailed Product Description
| | | | |
| --- | --- | --- | --- |
| Type: | smd led | Chip Material: | InGaN |
| Emitting Color: | Yellow | Luminous Intensity: | Customers' Requirements |
| Luminous Flux(lm): | 10-15LM | Power: | 0.5W |
| Viewing Angle(°): | 120Degree | Color Rendering Index: | Null |
| Color Temperature: | 590-595nm | Operating Temperature: | -20 - 85°C |
| Chip Brand: | Epistar Chip, Sanan Chip,Epileds Chip | Current: | 150mA |
| Voltage: | 2.0-2.4V | Warranty: | 2 Years |
| Lifespan: | 50000-100000H | | |
0.5watt SMD 2835 LED Chip yellow color 590-595nm 150mA 10-15LM with led strips
TYPE
COLOR
CCT(k)
VIEW ANGLE
BRIGHTNESS(mcd)
VF(Typ)
2835BLUE SMD LED

BLUE

450-470nm

120

8-12LM

3.2

2835GREEN SMD LED

GREEN

520-525nm

120

30-40LM

3.2

2835 YELLOW SMD LED

YELLOW

585-595nm

120

10-15LM

2.0

2835 RED SMD LED

RED

620-630nm

120

15-20LM

2.0

2835 WARM WHITE SMD LED

WARM WHITE

3000K

120

50-55LM

3.2

2835 WARM WHITE SMD LED

WARM WHITE

4500K

120

50-55LM

3.2

2835WARM WHITE SMD LED

PURE WHITE

6200K

120

55-60

LM

3.2

2835 COOL WHITE SMD LED

COOL WHITE

15000k

120

50-55LM

3.2
2835 SMD LED APPLICATION
LED lighting:
LED spot light, LED ceiling light, LED bulb and LED wall lamps,LED down light,LED wall lamp, LED garden light ,LED food light, LED miner lamps,LED Street light,LED garden light,LED tunnel light and LED Strip.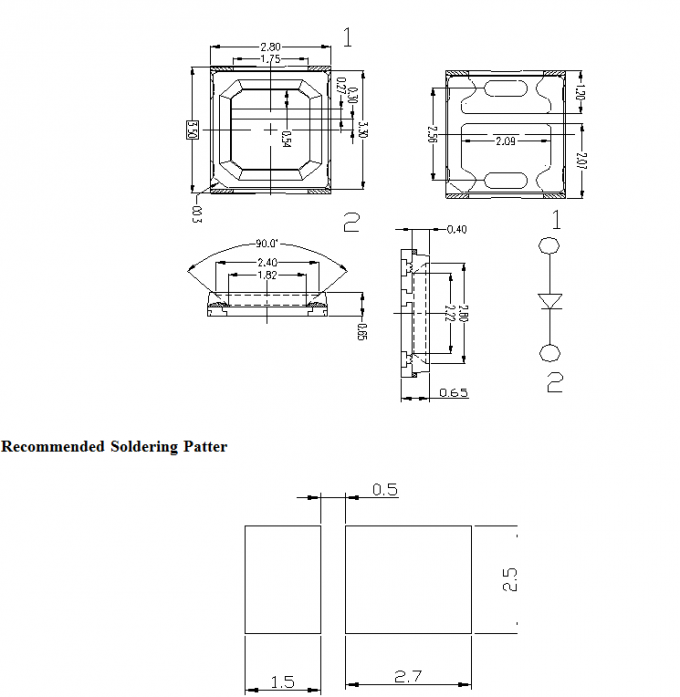 SURFACE MOUNT LED LAMPS
Product Type:YH2835Y
Absolute maximum ratings (Ta=25°C)
Parameter

Symbol

Value
Unit
Forward current

If

150
mA
Reverse voltage
Vr
5
V
Power dissipation
Pd
0.38
W
Operating temperature range
Top
-25~+80
°C
Storage temperature range
Tstg
-30~+85
°C

Peak pulsing current

(1/8 duty f=1KHz)

Ifp
200
mA
Electro-Optical characteristics (TA=25°C)

Parameter

Test

Condition

Symbol

Value
Unit
Min
Typ
Max
Color Temperature
--
CCT
--
--
-
K
Forward voltage
If=150mA
Vf
2.0
--
2.4
V
luminous flux

If=150mA

φ
10
--
15
LM

Viewing angle at 50% IV

If=150mA
2θ1/2
--
120
--
Deg

Dominant wavelength

If=150mA

λd
590
--
595
nm
Reverse current
Vr=5V
Ir
--
5
--
μA

Please read the following notes before using the product:
1. Over-current-proof
Customer must apply resistors for protection, otherwise slight voltage shift will cause big current change (Burn out will happen).
2. Storage
2.1 Do not open moisture proof bag before the products are ready to use.
2.2 Before opening the package, the LEDs should be kept at 30℃ or less and 90%RH or less.
2.3 The LEDs should be used within a year.
2.4 After opening the package, the LEDs should be kept at 30℃ or less and 70%RH or less.
2.5 The LEDs should be used within 168 hours (7 days) after opening the package.
2.6 If the moisture adsorbent material (silica gel) has fabled away or the LEDs have exceeded the storage time, baking treatment should be performed using the following conditions. Baking treatment: 60±5℃ for 24 hours.
3. Soldering Condition
3.1 Pb-free solder temperature profile.
3.2 Reflow soldering should not be done more than two times.
3.3 When soldering, do not put stress on the LEDs during heating.
3.4 After soldering, do not warp the circuit board.
4. Soldering Iron
Each terminal is to go to the tip of soldering iron temperature less than 260℃ for 5 seconds within once in less than the soldering iron capacity 25W. Leave two seconds and more intervals, and do soldering of each terminal. Be careful because the damage of the product is often started at the time of the hand solder.
5. Repairing
Repair should not be done after the LEDs have been soldered. When repairing is unavoidable, a double-head soldering iron should be used (as below figure). It should be confirmed beforehand whether the characteristics of the LEDs will or will not be damaged by repairing.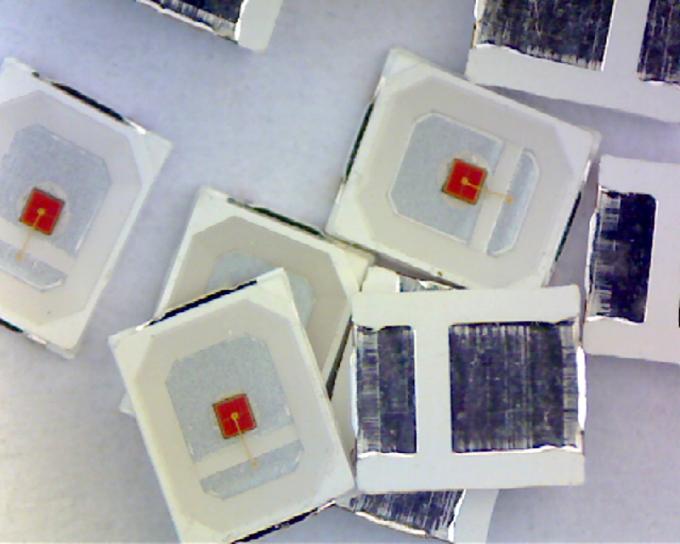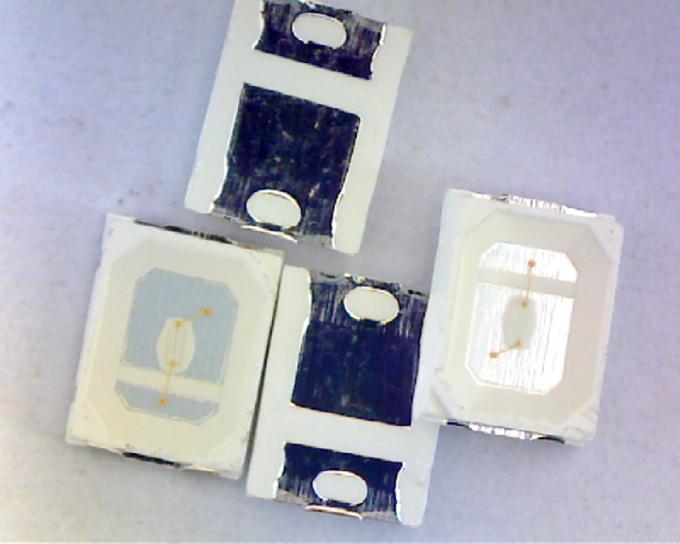 Reel Dimensions: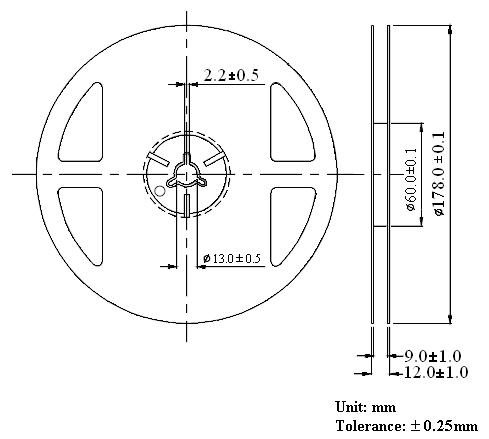 Carrier Tape Dimensions:
Loaded quantity 4000 PCS Per reel.